…always the joy of playing is coming out of the speakers; the unification of lively played string instruments and the rock and metal sound of guitar, bass and drums pulls the listener into a complex musical universe, which always shows something new and which always shows those high player's skills. Leads the listener into a melancholic mood or into some bright happiness, invites him to have a wild dance. This is the first time, that Ally additional includes her voice. The lyrics  give the compositions, which are already occupying in the instrumentals, a new dimension. …

Axel Schön, Orkus – Magazin10/13
I N F O
ALLY THE FIDDLE is the soloist project of rock violinist Ally Storch. So the (electrical) violin is uncommonly in the focus, but not in a classical way, but in the wide sound spectrum of Fusion, Progressive Rock and Metal. 2008 the band was founded due the recordings for the CD "Red Unicorn". Meanwhile the six people from Northgermany can look back on a great amount of club and festival shows, as well as on successful support tours for designated rock giants like U.F.O., Bobby Kimball (Toto), ASP and more.
Since 2010 the band is represented by the booking agency "Crush Concerts" and the record label "Gentle Art of Music".
"What's special about Ally The Fiddle's music is how it places the violin right in the center of both compositions and live performances, rather than employing it as a simple backing intrument for additional colour. While the history of prog rock has its share of bands which featured violinists – often superb and very intriguing stuff – most failed to make the violin truly sound at home in their music, or only produced a very small number of songs where they managed to fully tap the instrument's potential.

But Ally and her band are very different, they really deliver. Their music is one of a kind, their stage performances are stunning. The violin, as the band's centerpiece, is played with consummate skill and in turns merges with the power of rock, the sophistication of prog rock, the emotion of folk rock and the harshness of metal. The violin never loses itself within the compositions, turning into a mere accessory, but rather stands strong as the pivotal instrument in a brilliant interplay between the classic instruments of rock."

Gerd Weidemann
Ally Storch – (E-)Violins/Vocals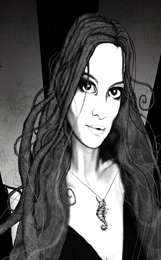 Ally is a classical studied violinist, but already decided due her studies to follow a way as a freelance rock musician. So now she plays the violins for Ally The Fiddle, writes the songs and works furthermore as a guest and studio musician for well known bands mainly from the german Independent Music Scene (Knorkator, ASP, Umbra et Imago, Coronatus, Die Apokalyptischen Reiter…), offers a huge diversity in musical styles and looks back to a big amount of recordings and shows. Until 2011 Ally was creating the subject "rock violin" for the Rock and Popschool in Rostock.
Ally is permanent member of the band Subway To Sally, of the ensemble Asps Von Zaubererbrüdern, was 2012 and 2013 replacement for the violinist of the band Schandmaul and is constant substitute for the walking and gala band Walk-a-Tones.
Since 2013 Ally additional uses her warm voice for Ally The Fiddle.
Ally's personal website: ally-storch.com
Ally at wikipedia.de: Ally_Storch
Robert Klawonn – E-Guitar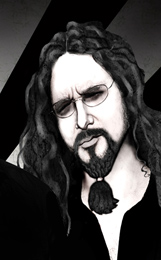 Not only very fast fingers, also progressive sounds describe the style and sound of Robert. So he is not only lead guitarist, but also writes modern guitar riffs for the band. He enriched his already impressive skills by masters like Milan Polak, Mathias "IA" Eklundh, Victor Smolski, Marcus Deml, Patrick Rondat, Bumblefoot, Andreas Öberg… Before he was playing with Ally the Fiddle Robert was guitarist of the bands Mainpoint und Friedrich Franz Tanzensemble. At the moment he is additional guitarist of the band Poised from Berlin and since a large amount of years teacher at the Rock and Pop school in Rostock.
Robert's personal website: robertklawonn.com
Eric Langbecker – E-Guitar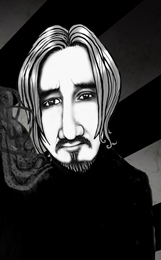 Since 2017 Eric supports our rhythm section. He is from Rostock and studies actually at the city's conservatory 'Hochschule für Musik und Theater Rostock' (E-Guitar/Classical Music). He started early to gain experiences in various Metal Bands as former student of Holy Moses' guitarist Peter Geltat. So he had been for instance lead guitarist of Progressive Rock Band 'aecotone'. At the moment Eric performs mainly Jazz, Blues and Fusion.
Eric in Facebook: https://www.facebook.com/eric.langbecker
Rouven Paul Haliti – Chapman Stick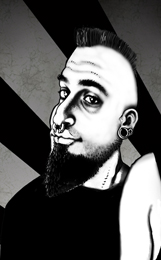 The latest news in Ally The Fiddle's line-up is the addition of a Chapman Stick, which Rouven brings in 2017. Besides his studies at the same conservatory like Eric (E-Bass/Classical Music and Upright Bass) he plays in various bands in various styles and genres – with various instruments; Fretless Bass in the Death Metal Band 'Determination' and Chapman Stick, Fretless Bass, Upright Bass and Theremin in the experimental Electro Project 'CozmicRip'.
Rouven in Facebook: https://www.facebook.com/Rouven-Paul-Haliti
Stefan "Huky" Hukriede – Drums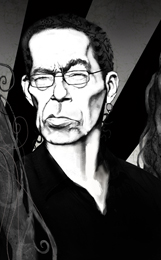 Drummer Huky's roots are mainly in folk rock and cover music. He was already playing in uncountable bands: Tears for Beers, Nijinsky Style, Me and the Boys, Skyline, Phil Kenny Band…. Beside his work in Ally the Fiddle Huky is permanent member as percussionist of the ensembles Asps Von Zaubererbrüdern.
Huky in Facebook: facebook.com/stefan.hukriede
Simon Tumielewicz – Bass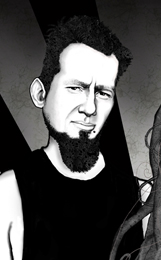 Simon joined the band in 2013, after Thorsten Hartung (No More f.i.) retired from his life as musician. Simon is a globe trotter and lived already in a big variety of countires (as Poland, Ireland, Spain…). His former bands are Tossing the Sun and Othis (both in Poland), Gregor Friday (Progressive Rock from Australia) and Gebruder Grim (Germany). 
Simon in Facebook: https://www.facebook.com/Syme0n
Pics: Holger Much